Sweet Potato Pecan Pie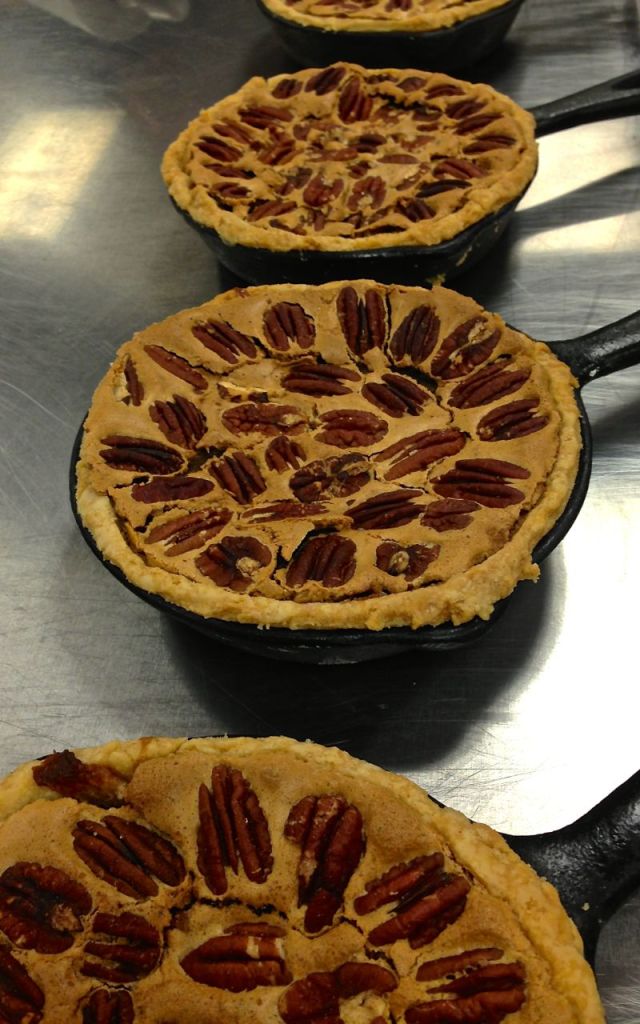 5 cup AP flour
¼ cup Granulated sugar
½ Tbl kosher salt
1 ¼ lb unsalted butter (chopped nicely)
1 ea Oranges zest only
5 ea egg yolk
½ cup or less ice water

5 cup mashed sweet potatoes
1 ¼ cup brown sugar
¾ cup granulated sugar
5 ea egg beaten
⅓ cup heavy cream
⅓ cup unsalted butter, softened
⅓ cup vanilla
1 ¼ teaspoon salt
1 ¼ teaspoon ground cinnamon
½ teaspoon ground allspice
½ teaspoon ground nutmeg

2 cup sugar
2 cup dark brown sugar
5 ea eggs, beaten
¼ cup unsalted butter, melted
1.5 Tbs vanilla
½ tsp salt
½ tsp ground cinnamon
1 quart chopped pecans
To make the dough: Sift flour, sugar and salt together. Cut in butter and orange zest until combined. Slowly add the yolk and water until dough pulls together. Ball up and chill for at least 30 minutes.
For first layer, mix all ingredients in mixer for about 3 minutes or until totally smooth.
For second layer, cream sugar and butter and add eggs until combined add remaining ingredients and mix for 1 minute.
To make pie: Butter 1 large cake pan for a deep dish pie, or 2-3 regular sized pie dishes, or 7 mini pie pans. Cut a parchment circle to fit the bottom. Roll the crust out onto a floured sheet of parchment and flip into pan. Flute edges and brush with egg whites. Fill about halfway with sweet potato filling and spread 1.5 cups of hand crushed pecans evenly over filling. Top with second layer mixture until just to lower edge of crust. Add more pecans!
Bake at 325 in oven for about 45 minutes or until a toothpick comes out clean. If it is browning to quickly, place foil over the top of the pie.